LEANDER CLUB at HENLEY ROYAL REGATTA
27th June – 2nd July 2023

| | | | | | |
| --- | --- | --- | --- | --- | --- |
| Race | Time | Trophy | Berks | Bucks | Winner |
| 5 | 11.40 | P. Grace | 396 Shawnigan Lake School, CAN | 391 Leicester R.C. & Leander Club | 391 Leicester R.C. & Leander Club |
| 6 | 11.50 | P. Wales | 408 Leander Club | 406 Hollandia Roeiclub, NED | 408 Leander Club |
| 7 | 12.00 | Town | 292 Leander Club & Imperial College Lon | 291 Leander Club | 292 Leander Club & Imperial College Lon |
| 8 | 12.10 | Ladies' | 13 Leander Club | 16 Oxford Brookes University 'A' | 16 Oxford Brookes University 'A' |
| 10 | 12.30 | Visitors' | 312 Oxford Brookes University | 307 Leander Club | 312 Oxford Brookes University |
| 12 | 12.50 | Doubles | 654 A. Thompson & J.E. Collins | 651 A. Garcia Pujolar & R. Conde Romero | 651 A. Garcia Pujolar & R. Conde Romero |
| 16 | 2.50 | QM | 382 Nottingham R.C. & Leander Club | 381 A.Z.S. Torun & W.T.W. Wloclawek, PO | 382 Nottingham R.C. & Leander Club |
| 18 | 3.10 | Goblets | 630 J. Walkey & J. Cullen, CAN | 631 O.H. Wynne-Griffith & T.J.E. George | 631 O.H. Wynne-Griffith & T.J.E. George |
| 19 | 3.20 | Remenham | 4 Leander Club 'A' | 6 Maple Bay Rowing Club, CAN | 6 Maple Bay Rowing Club, CAN |
| 21 | 3.40 | Grand | 1 Maple Bay R.C., CAN | 2 Oxford Brookes University & Leander | 2 Oxford Brookes University & Leander |
| 22 | 3.50 | Stonor | J. Moffatt & J. Casson, Shawnigan Lake School, Canada | O.A. Obukohwo & K.S.A. George, Twickenham Rowing Club and Leander Club | J. Moffatt & J. Casson, Shawnigan Lake School, Canada |
| 24 | 4.10 | Wargrave | 68 Leander Club | 78 Thames R.C. 'A' | 78 Thames R.C. 'A' |
| 26 | 4.30 | Fawley | 440 Hinksey Sculling School 'A' | 448 Leander Club 'A' | 448 Leander Club 'A' |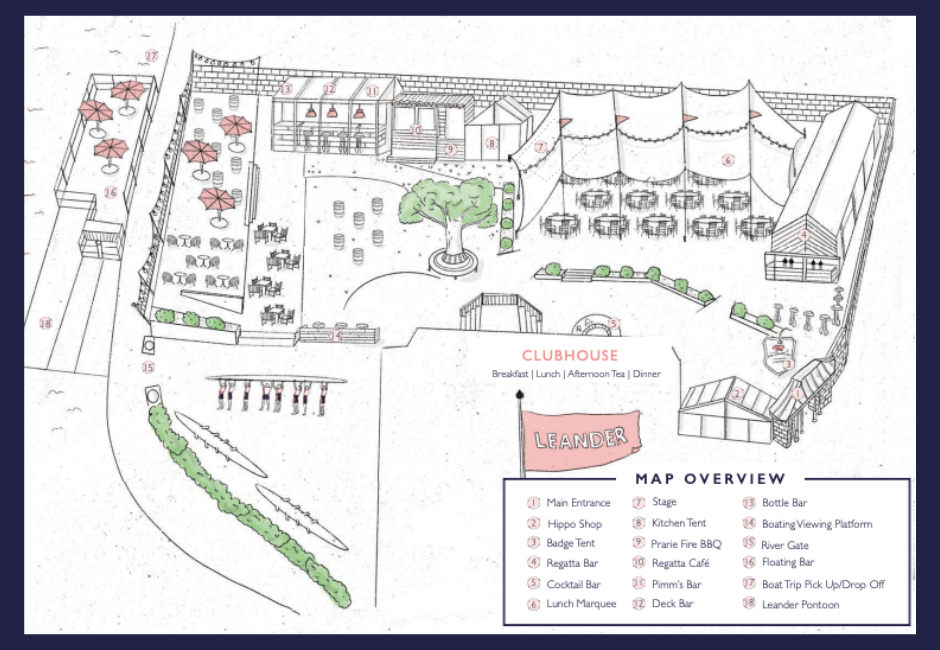 ——————–
We're delighted to bring you Leander Club at HRR 2023 with more tables available for dining bookings, more bars in the garden and afternoon tea, available this year in the Dining Room and the garden.
Members have received their badge packs, which include details of the full programme of events.
There will be a new structure at the rear of the garden which will become the 'Regatta Bar'. The riverside Deck Bar will have an additional bottle bar and a Pimm's bar!

There are new choices for casual food too, with the shack becoming the 'Regatta Café', serving Nettlebed Creamery cheese toasties, sandwiches and cakes. Prairie Fire return with their blend of Kansas City BBQ. Teas and coffees will be available all day.

For those looking for a private hospitality area, we are hosting a brand new Floating Bar which will be moored next to the athlete's pontoon. You can book 'all day' tables with spectacular views and refreshments included, or take over the entire bar for a private evening party.

DINING
Meals are served every day of HRR, from Tuesday 27th June to Sunday 2nd July.
8-9.30am Breakfast: served à la carte in the Dining Room
12-2.30pm Lunch in the Clubhouse: a formal three-course lunch – £92
12-2.30pm Lunch in the Garden: a formal buffet in the marquee – £58
4-5.30pm Afternoon Tea: served in the Clubhouse and the marquee – £34
7.15-8.30pm Dinner: a formal three-course meal served in the Clubhouse (not available on Sunday) – £58
Table for the day on the Floating Bar, see below – £150
Click the pink buttons below to view sample menus.
BOOKING RULES
Members may make ONE lunch booking per day, either inside or outside. Enquire at the badge tent for on the day availability.
Minimum booking – 2 people. Maximum booking inside – 6 people. Maximum booking outside – 10 people.
Members wishing to book for parties larger than 10, may do so for Dinner. Please call the office or email regatta@leander.co.uk
No refunds will be given after 15th June 2023.
floating river bar
New for 2023 is our exclusive floating bar, available for private hire for the whole day, for parties of six people.
A Floating Bar Table for the Day will include a wonderful breakfast, teas and coffees, a luxury buffet for lunch and a fabulous afternoon tea. Watch the crews go by from the guaranteed comfort of your own table. There is a bar 'on board'!
£150pp. Book via the pink Meal Tickets button above.
The entire bar is also available for private hire for the evening, please contact us on 01491 575782 or email regatta@leander.co.uk to enquire.
outdoor drinks & casual dining
We know that not all Members are able to commit to pre-book meals at Leander Club and that sometimes, a more informal meal is preferred. Here's a selection of the on-the-day food that will be available in plentiful quantities!
Regatta Café – 9am-6pm
Our outdoor shack will be turned into the Regatta Café, running all day, every day. Your 'go to' tea and coffee option. In addition, we will be serving Nettlebed Creamery cheese toasties, a range of sandwiches, cakes and ice creams.
Clubhouse bar menu – 12pm-2.30pm
A small bar menu will be available in the club for casual dining at lunchtime. No booking required.
Prairie Fire BBQ – 12pm onwards
The shack will also be offering some great BBQ options all day courtesy of Prairie Fire BBQ; an American style barbecue restaurant in London. There you'll find dishes such as oak smoked brisket, Applewood smoked pork, hot dogs, seasoned fries, and other comfort food classics.
Saturday and Sunday BBQ – 7pm onwards
The Saturday BBQ is a popular fixture at Leander during HRR. This year it will be provided by Prairie Fire and will run on both Saturday and Sunday nights on the boat hard.
Please note that we ask everyone to follow a 'fair use policy' and not park themselves at one table for the whole of the day.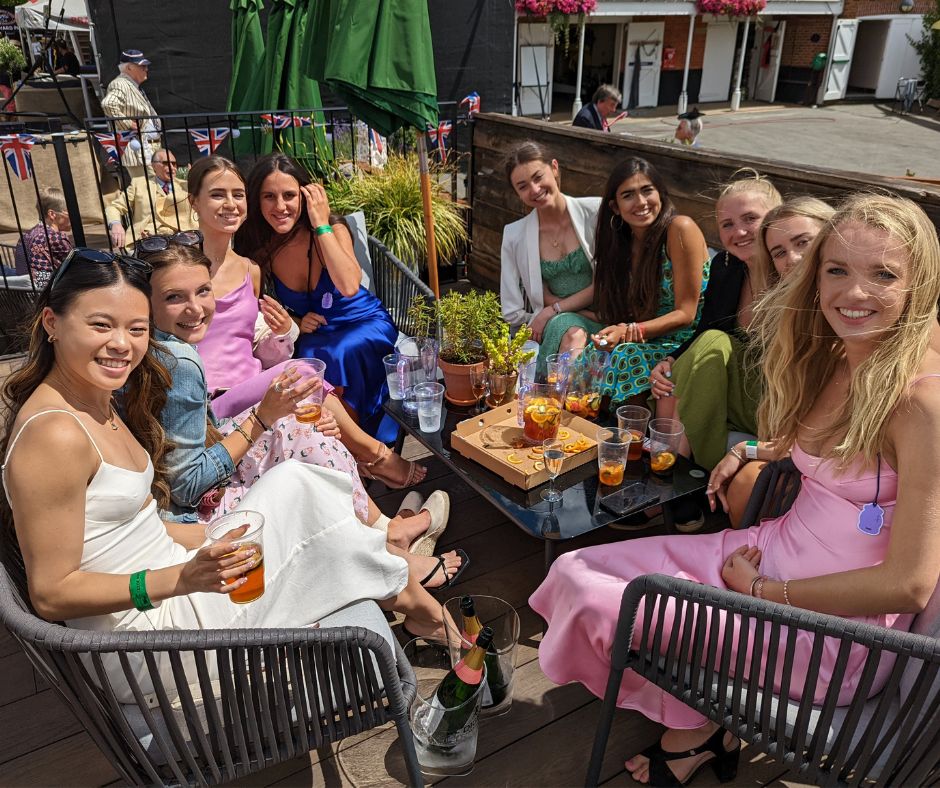 Badge packs & guest passes
Entry to Leander Club during HRR is by pass only.
HRR badge packs have been sent to Full and Club Members. These contain your metal badge, two guest swing badges per day and a brochure.
Members booking a meal will receive an extra swing badge for every guest over and above their daily allocation of the two guest passes included in this pack (please remember to bring these). Report to the Badge Tent to collect your complimentary extra guest badges for your pre-booked meals on arrival.
Further guest passes may be purchased on the day for £17.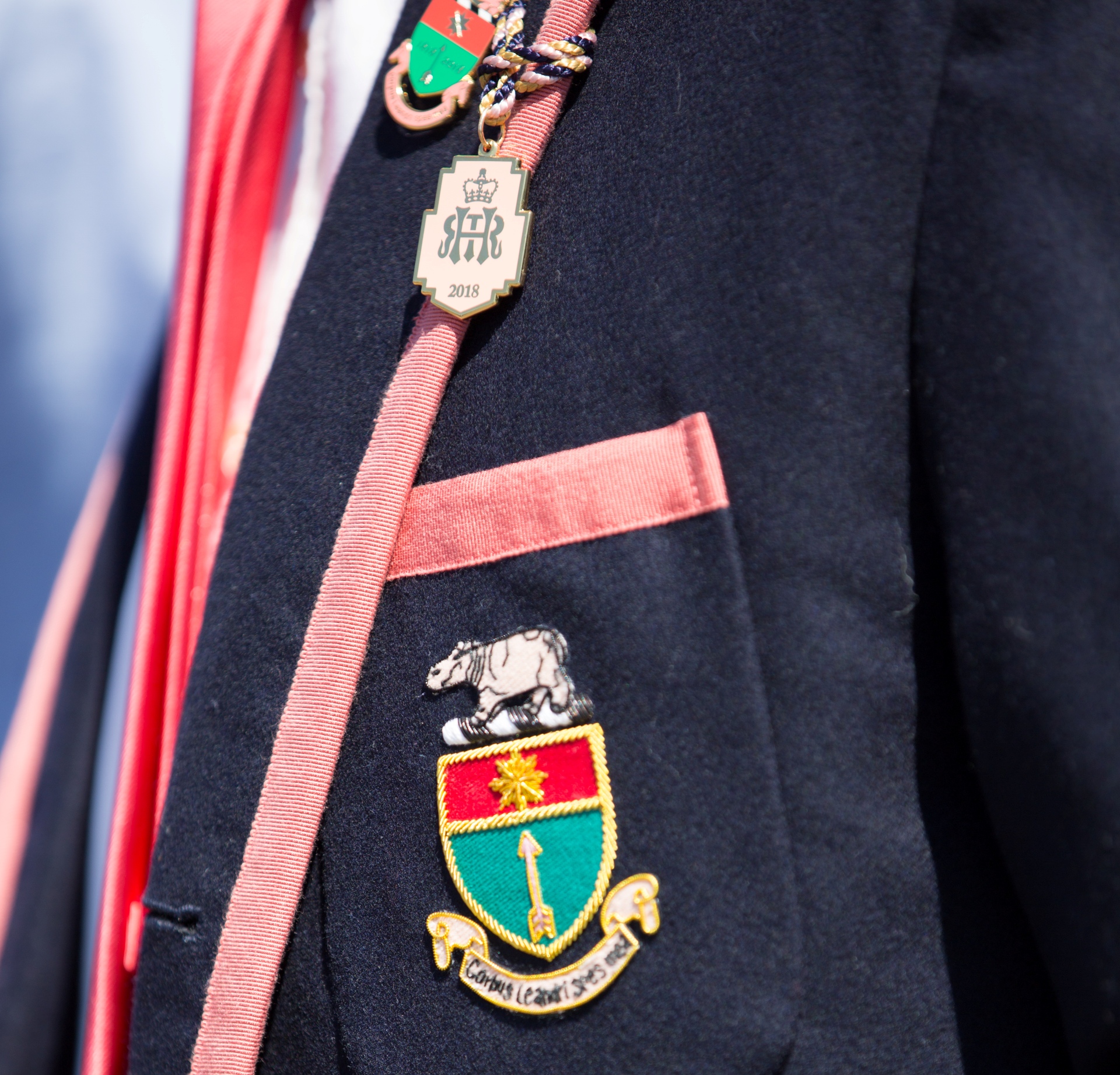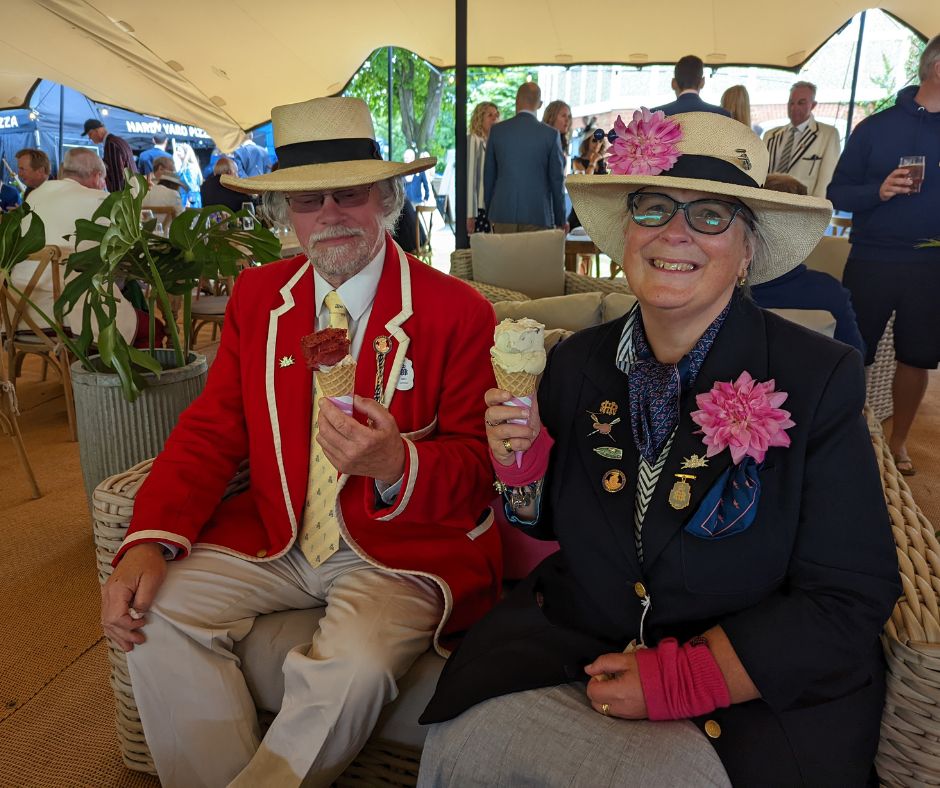 Dress code
All Members are asked to remind their guests that the dress code for Regatta is very traditional. These dress codes apply to everyone and no exceptions are made.
The Leander Dress Code during the Regatta is the same as the Dress Code for the Stewards' Enclosure.
Gentlemen are required to wear lounge suits, or jackets or blazers with trousers, together with a tie or, if preferred, a cravat.
Ladies are required to wear dresses or skirts, with a hemline below the knee, or jackets or blazers with trousers, or trouser suits.
No one will be admitted to Leander or the Stewards' Enclosure wearing shorts, leggings, tracksuits or jeans.
Children – Children over the age of 10 are welcomed provided they comply with the adult dress code. Younger children and babies will not be allowed entry, before end of racing on Sunday.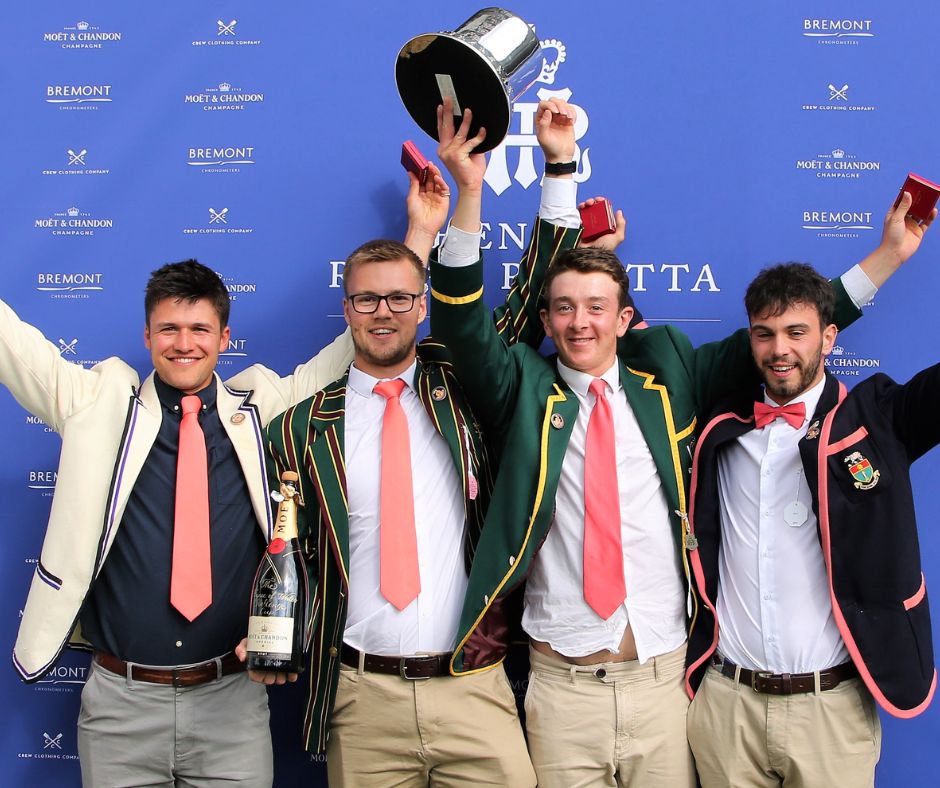 WINNERS' PARTY
Members are invited to the winners' party on Sunday night from 6pm. Members and those with guest badges will not need tickets. A limited number of non-Member tickets will be available from the Badge Tent throughout the week for competing crews only.
Winners enter free on presentation of their medals.
Bloc off the Wall will be providing the music. Food will be available from Prairie Fire BBQ.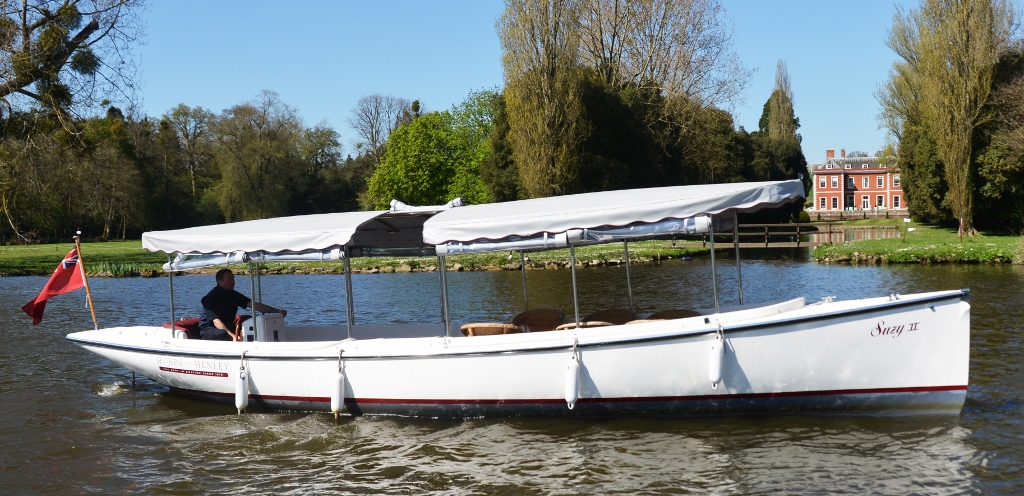 Pick up will be on the towpath. To book, please contact us on 01491 575782 or email
regatta@leander.co.uk
Boat Trips
Treat your guests to a leisurely boat trip along the iconic course. Boat trips are available every 1.5 hours, every day of the Regatta.
Book via the Leander office on 01491 575782. Tickets are £48 per person with a maximum capacity of 12 people.
Times available:
9.15am-10.30am
10.45am-12pm
12.15pm-1.30pm (bring a picnic!)
2.30pm-4pm
4.15pm-5.45pm
6.00pm-7.15pm – Sundowner Cruise
Further information
CAR PARKING
The Club car park is not available for Members throughout Regatta Week as it is allocated for competitors. The car park is therefore closed to Members from Monday – Sunday inclusive.
Members must make their own parking arrangements during HRR.
CLUB OPENING TIMES DURING HRR
7.30am – 11pm Tuesday – Saturday, 8am – 11pm Sunday
MOBILE USAGE
Mobile phones should not be used in such a way as to impair the enjoyment of others. Please switch your phone to silent and, if it is necessary to hold a conversation, conduct it quietly in a discreet place, outside the Clubhouse. Please note the Stewards' Enclosure has stricter controls on the use of mobile telephones.
shop
The Pink Hippo Shop will be open from 10am-8pm (Tuesday 10am-7pm, Sunday 11am-4pm). A range of items will be on sale, from t-shirts, polo shirts and other clothing, to umbrellas, water bottles, gifts and of course, souvenir hippos!
WHEELCHAIR ACCESS
Wheelchair access is available to all areas of the Club with the exception of the Eton Room where regrettably this is impractical.
WI-FI
To avoid the possibility of overload the Club Wi-Fi system is only available to residents and staff over the Regatta period.
OTHER INFORMATION
The Club does not carry cancellation insurance for force majeure occurrences such as flooding, and it is not possible to insure against cancellation due to an act of terrorism and communicable diseases such as foot and mouth or a pandemic. Full or even part refunds may not, regrettably, be possible in such extreme circumstances.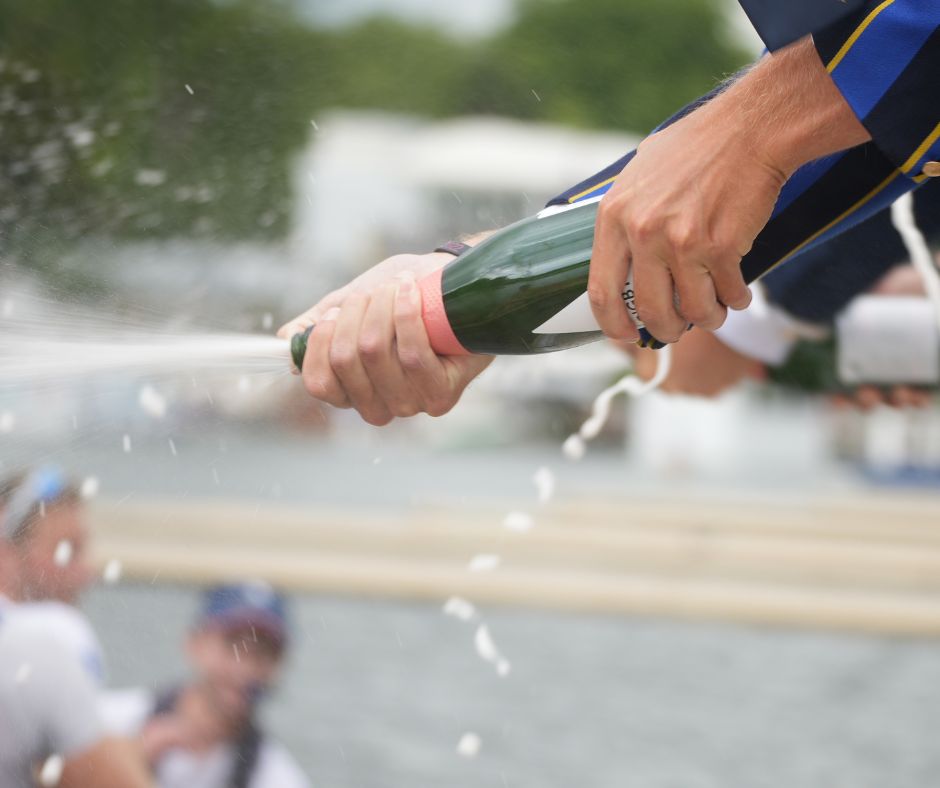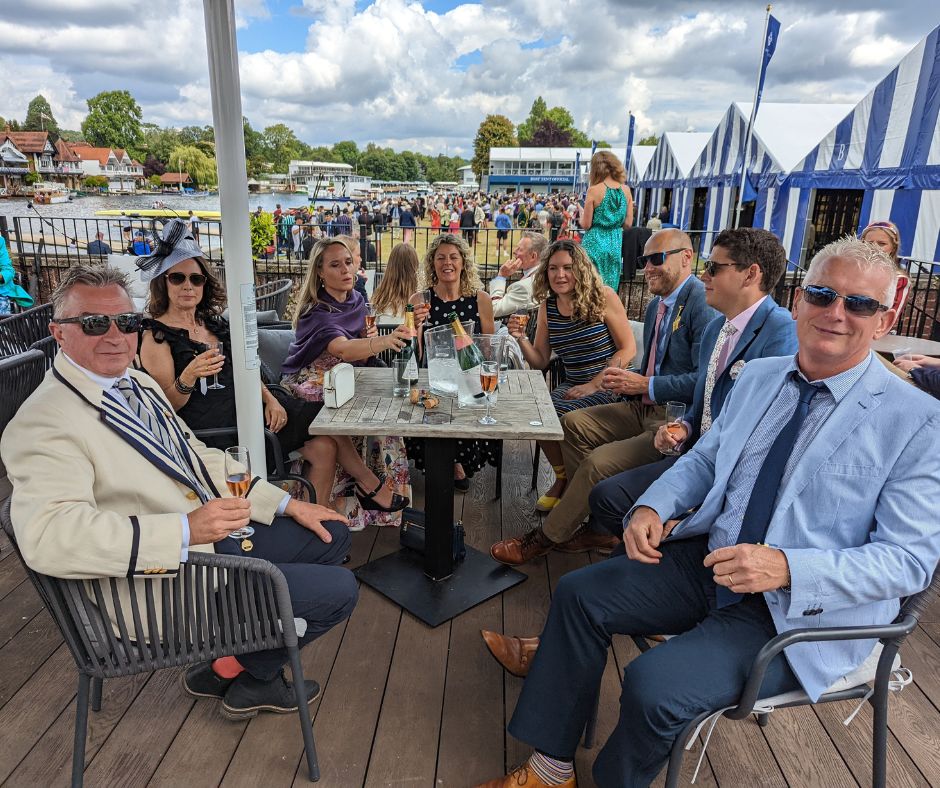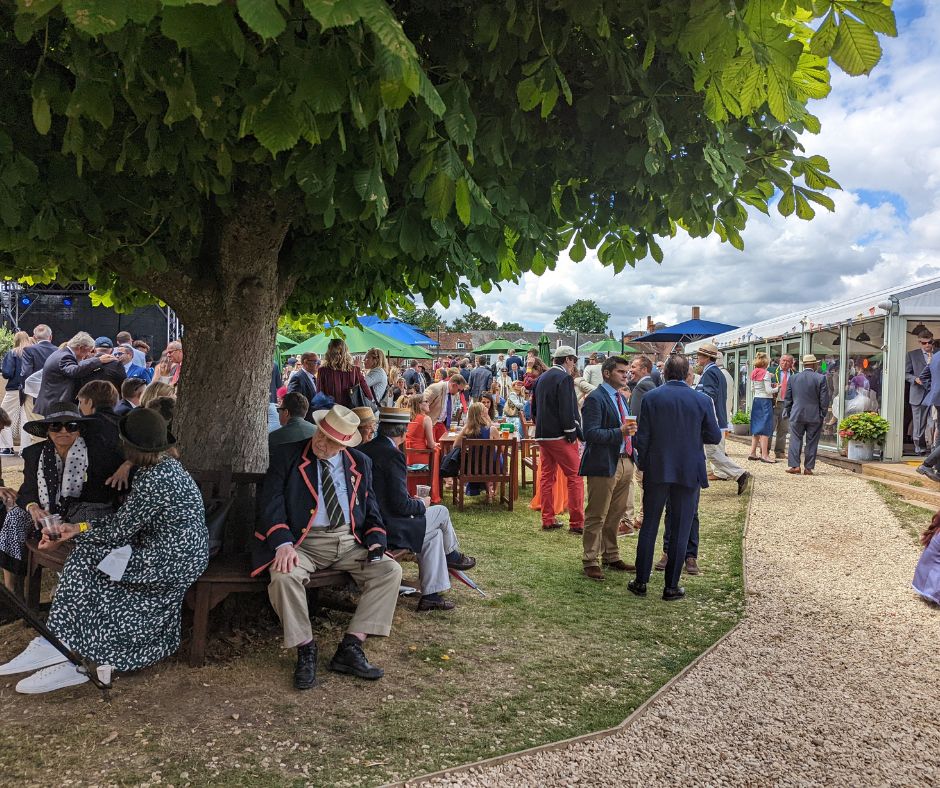 Leander crews for 2023
We are hoping for another successful year – pictured, our winners from 2022!