For the third weekend in a row the Leander women took two crews to the Tideway to complete a series of races on the Championship course which included fixtures and the Women's Head of the River.  This weekend it was an opportunity to race Cambridge as they prepare for their boat race in two weeks' time. Conditions for the day were predicted windy and rough which provided an excellent challenge for our crews.   
Leander A vs CUBC Women Blue Boat
In the first of three races, Leander started on Surrey with the race running to the start of the Harrods wall.  A good start from the Leander women saw them take the lead early on and stretch out to ¾ length lead by Fulham football club.  The CUBC women took advantage of the inside of the first bend and drew back level.  CUBC had the momentum in the final two minutes and took an overall lead of a third of a length. 
The second piece ran from Harrods Wall to Chiswick Steps.  Staying on Surrey, the Leander women had the advantage of the bend and they made the most of it taking an early lead.  As the conditions got rougher along the Eyot, Leander stretched out to win by 1 Length. 
In piece 3, Chiswick steps to the Finish, the Leander women took the early lead – a third of a length.  CUBC Women had the advantage of the inside of the Barnes bend.  Leander fought to maintain their lead and crossed the finish line maintaining their third of a length lead.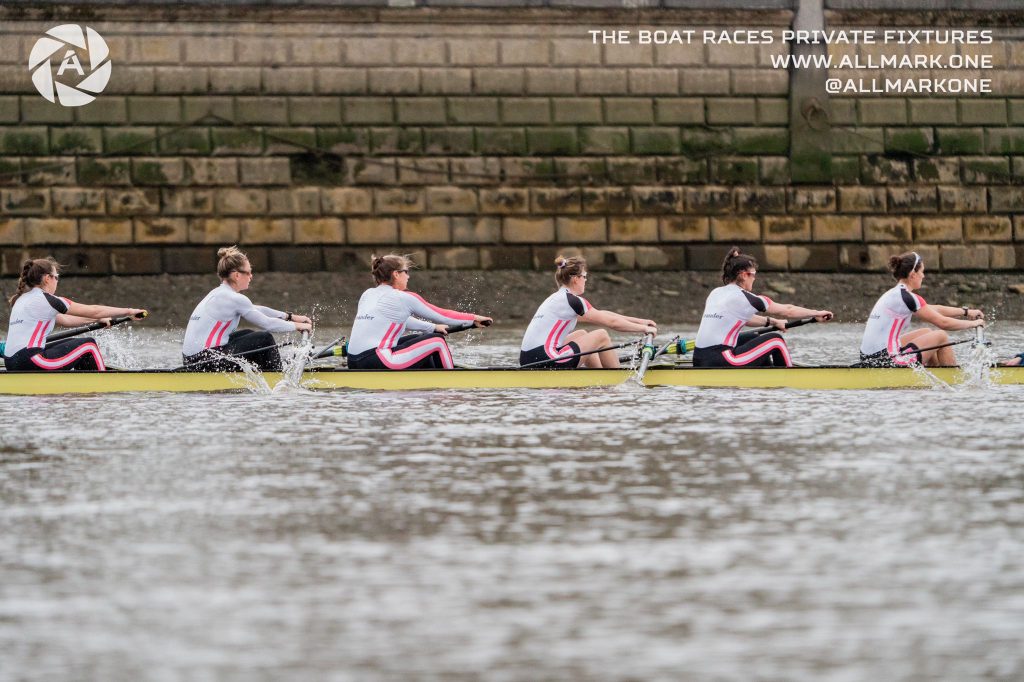 Leander B vs CUBC Blondie
These crews decided to race 2 x half courses.  Leander on Surrey and Blondie on Middlesex.  The Leander women, with three of our gap year athletes racing, jumped out off the start and continued to stretch out their lead to win by a comfortable margin of 4 lengths at the blue doors finish line. 
In piece 2, Blondie started up on Leander which provided closer racing for both crews. Leander swiftly moved through to get their bows in front and then stretched out to win the second piece by 2 Lengths at the finish line.
This racing marks the end of our winter training and head racing. The focus now shifts to side by side summer racing with GBR April trials being the first main event.
Crews
LDR A
8 Abigail Topp
7 Amelia Standing
6 Abbie Bird
5 Franny Hunt-Davis
4 Tricia Smith
3 Tash Morrice
2 Laura McKenzie
1 Grace Dening-Smitherman
C George Farthing
LDR B
8 Helen Kirkpatrick
7 Meg Halpin
6 Alice Ives
5 Cam Nyland
4 Issy Powell
3 Laura Burton
2 Isabel Llabres-Diaz
1 Olivia Hill
C Katy Ward