Photo: Leander 1
Leander's top club men's eight took on the Oxford University Blue Boat this weekend on the Championship Course, with the fixture broadcast live on The Boat Race YouTube channel.
It was a fantastic race where the lead changed hands three times over the course of the piece from Putney to Chiswick Steps.
Oxford took a half-length lead off the start, but Leander came back through along the Mile Post straight to lead by almost a length. However, an impressive Oxford crew maintained overlap and took full advantage of the Surrey bend to win the fixture by just over a length in difficult windy conditions.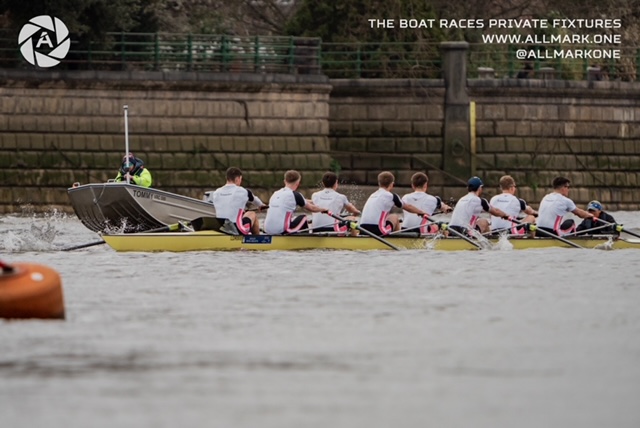 Leander Club 2 v Isis
Leander 2 was a crew comprised predominantly of scullers from our development squad.
Their race took place over the same course as the Blue Boat fixture. Isis got off to the better start to take an early lead, but the scullers' crew developed good rhythm and rowed back through Isis to lead by a length at Harrods.
Leander held on to their lead to take the win in rough water by Chiswick Steps.
Well done to all the crews that raced and thanks to Oxford for the fixture. We wish you all the best for the Boat Race on the 26th March.
Thanks to Vesta Rowing Club for hosting us this weekend.
Crews
LDR 1
Bow: Ballinger
2: Devereux
3: Vogel
4: Farrell
5: Querfeld
6: Holler
7: Graham
Stroke: Bowesman-Jones
COX: Tottem
LDR 2
Bow: Grainge
2: Fielding
3: Costley
4: Ellery
5: Adamson
6: Keating
7: Turnell
Stroke: Harris
Cox: Gladstone